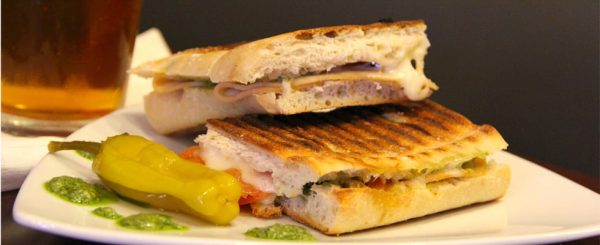 Are you searching for an exceptional Italian restaurant in Gaslamp, San Diego, that not only offers delectable Paninis but also boasts a delightful Gaslamp happy hour? Look no further than Pizza On 5th! Our casual Italian eatery, nestled in the heart of the vibrant Gaslamp Quarter, is renowned for delivering a memorable dining experience.
Prosciutto Crudo Panini – A Slice of Italy in the Gaslamp
Our Prosciutto Crudo Panini is a culinary masterpiece that brings a taste of Italy to the heart of Gaslamp. This mouthwatering creation artfully combines thinly sliced prosciutto, rich ricotta cheese, aromatic pesto, fresh and vibrant spinach, artichokes, red onions, fresh tomatoes, and sun-dried tomatoes. Every bite is a journey through the Italian countryside, and the contrasting textures and flavors create an unforgettable taste experience that is truly Gaslamp's best-kept secret.
Pollo con Pesto (Chicken Pesto) Panini – Gaslamp's Hidden Gem
For those who prefer poultry, our Chicken Pesto Panini is a must-try. Featuring tender slices of chicken, gooey mozzarella cheese, fragrant pesto, fresh spinach, and juicy tomatoes, this panini is a hidden gem in Gaslamp's culinary scene. The balanced flavors of pesto and the creaminess of mozzarella pair seamlessly with the tender chicken, making it a delightful Gaslamp happy hour treat.
Tacchino (Turkey) Panini – A Lighter Option for Gaslamp's Foodies
Our Tacchino (Turkey) Panini offers a lighter option that's perfect for Gaslamp's food enthusiasts. This panini boasts succulent turkey, melted mozzarella, aromatic pesto, fresh spinach, juicy tomatoes, sun-dried tomatoes, and artichokes. It's a refreshing twist on the traditional Panini Fiorentini that adds depth and complexity to your Gaslamp dining experience.
Vegetariano (Vegetarian) Panini – A Taste of Italy in Gaslamp for Everyone
Our Vegetariano Panini caters to the palates of vegetarians and anyone seeking a lighter yet satisfying meal. This plant-based delight is a celebration of vegetables and Mediterranean-inspired ingredients, featuring pesto, creamy feta cheese, fresh spinach, artichokes, ripe tomatoes, sun-dried tomatoes, tender eggplant, and zesty red onions. It's the perfect choice for a taste of Italy in the heart of Gaslamp.
At Pizza On 5th, we are dedicated to crafting our Panini Fiorentini are the freshest and finest ingredients available. Each panini is assembled with precision to create a balanced and satisfying meal that captures the essence of Italian cuisine. Our commitment to quality extends to our Gaslamp happy hour, ensuring that you get the best value for your money.
Nestled in the heart of the Gaslamp Quarter, Pizza On 5th is the go-to destination for those seeking the best Panini Fiorentinis and a delightful Gaslamp happy hour in San Diego. Whether you're a fan of the classic Prosciutto Crudo or eager to explore our other tantalizing options, we invite you to savor the flavors of Italy in a warm and welcoming atmosphere.
Our Italian restaurant in Gaslamp not only offers exceptional Panini Fiorentini but also features a Gaslamp happy hour that will elevate your dining experience. Join us for a memorable meal, and discover why Pizza On 5th has become a local favorite, offering the best Panini Fiorentinis and an irresistible Gaslamp happy hour in San Diego. Buon appetito!