Welcome to Pizza On Fifth, the ultimate destination for pizza lovers in downtown San Diego. We are not just your average pizza joint; we take pride in offering an unbeatable happy hour experience. From 12pm to 9pm daily, you can treat yourself to our incredible happy hour deals, including $3 draft beers, $6.50 wine glasses, and $5 shots. Join us for a memorable evening of delicious food, affordable drinks, and a warm, welcoming atmosphere.
Discover the Best Happy Hour in Downtown San Diego:
At Pizza On Fifth, we are proud to offer the best happy hour in downtown San Diego. Our aim is to provide an exceptional experience without putting a dent in your wallet. Join us during our happy hour, and here's what you can look forward to:
$3 Draft Beers Indulge in the crisp, refreshing flavors of our carefully curated selection of draft beers. From local craft brews to beloved classics, we have something to satisfy every beer enthusiast. And at just $3 each, you can enjoy your favorite brews without breaking the bank.
$6.50 Wine Glasses: For wine lovers, we offer an impressive selection of wines by the glass. Sip on a glass of velvety red or a crisp white while savoring our delicious pizzas. At only $6.50 per glass during happy hour, you can explore different varietals and discover new favorites.
$5 Shots: Looking to add some spirit to your evening? We've got you covered with our $5 shots. Choose from a range of premium liquors and experience the perfect balance of flavors. Whether you're a fan of tequila, whiskey, vodka, or other spirits, our shots will elevate your taste buds.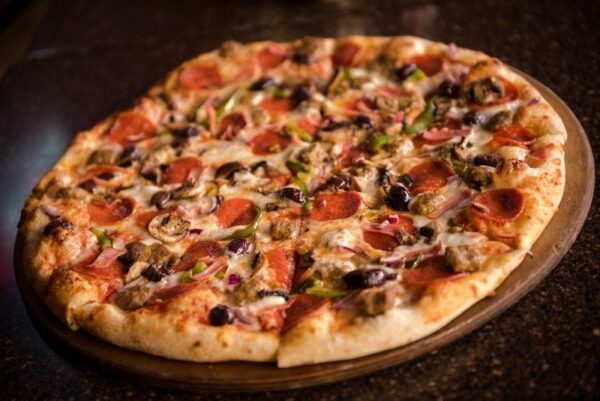 Unforgettable Pizzas and More:
While our happy hour steals the spotlight, we don't stop there. At Pizza On Fifth, we are passionate about crafting pizzas that leave a lasting impression. Using only the finest ingredients and a secret family recipe, our pizzas are a fusion of flavors and textures that will satisfy even the most discerning palates.
From classic Margherita to adventurous combinations, our menu offers something for everyone. Whether you prefer a traditional favorite or a unique creation, our skilled chefs will make sure your pizza is made to perfection. Pair your pizza with our affordable drinks during happy hour, and you're in for a memorable dining experience.
Visit Pizza On Fifth Today:
If you're searching for the best pizza place with an unbeatable happy hour in downtown San Diego, look no further than Pizza On Fifth. With $3 draft beers, $6.50 wine glasses, and $5 shots available daily from 12pm to 9pm, you can enjoy quality food and drinks without breaking the bank.
Our mission is to provide you with exceptional service, mouthwatering pizzas, and an inviting atmosphere. Come and experience the perfect combination of affordability, flavor, and hospitality. Visit Pizza On Fifth today and discover why we are the go-to destination for pizza lovers and happy hour enthusiasts in downtown San Diego.
Don't miss out on the best happy hour in town – join us at Pizza On Fifth and indulge in a culinary journey that will leave you craving more.