Pizza on 5th: A Gaslamp Gem for Delicious Drinks
Looking for a great spot to enjoy a delicious drink with friends or loved ones in Gaslamp? Look no further than Pizza on 5th! Our pizzeria has become a local favorite for its casual atmosphere, friendly service, and wide variety of drinks to choose from.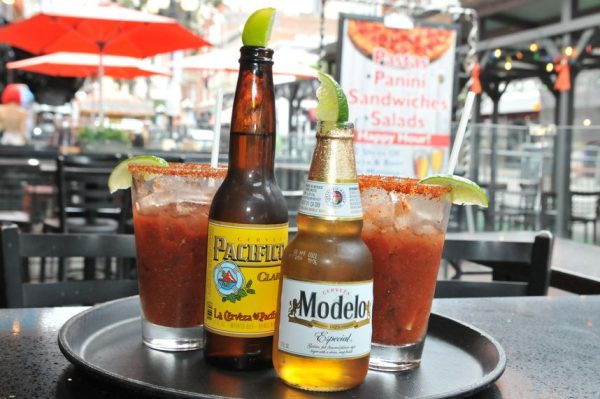 Let's take a closer look at some of the standout options on our drink menu:
Po5 Shots
If you're in the mood for a shot, Pizza on 5th has got you covered with our fun and flavorful Po5 Shots. The Horchata Shot is a popular choice, made with tequila, Rumchata, and Fireball for a sweet and spicy kick. Or try the Gummy Bear shot, made with flavored vodka, peach schnapps, and triple sec for a fruity and candy-like taste.
Over the Border is another great option for those who love tequila, with a mix of triple sec, pineapple juice, and lime squeeze for a refreshing and tropical twist. And if you're feeling adventurous, give the Hot Damn shot a try, made with a blend of whiskey, rum, vodka, and orange juice.
Po5 Cocktails
For those who prefer a mixed drink, Pizza on 5th offers a range of creative and delicious options to choose from. The Po5 Cocktail is a must-try, featuring a unique blend of vodka, gin, rum, tequila, sweet & sour, and blue curacao. The result is a colorful and flavorful drink that packs a punch.
If you're a fan of margaritas, Pizza on 5th has several options to choose from, including the classic Margarita made with tequila, triple sec, sweet & sour, and a lime squeeze. The Po5 Margarita is a fun twist on the classic, featuring blue curacao and a splash of sprite for added sweetness.
For those who prefer a martini, the Po5 Martini with vodka, blue curacao, and a splash of sprite is a delicious option. The Dirty Martini with Tito's Vodka and olive brine is another standout choice for those who love a savory and briny drink.
Beer and Wine
Pizza on 5th also has a great selection of draft and bottled beers to choose from, including popular options like Rolling Rock, Bud Light, and Blue Moon. Craft beer lovers will appreciate the selection of local favorites like Ballast Point Pale Ale, Big Wave Golden Ale, and Ballast Point Sculpin.
Wine enthusiasts can choose from a selection of red and white wines to complement their meal, including Chianti Classico, Pinot Noir, and Chardonnay. For a refreshing and fruity option, try the Moscato or Prosecco bubbly.
The Pizza on 5th Experience
In addition to our great drink menu, Pizza on 5th is also known for our delicious pizzas and other Italian-inspired dishes. From Calzones to Paninis, there's something for everyone on the menu.
The restaurant itself is casual and laid-back, with a cozy interior and outdoor seating for those who prefer to dine al fresco. The staff is friendly and welcoming, making for a warm and inviting atmosphere. Pizza on 5th is also a great spot for hosting events or parties, with plenty of space and a fun and festive atmosphere. Whether you're celebrating a birthday, hosting a corporate event, or just looking to gather with friends, Pizza on 5th is a great choice.