A Slice of Happiness at Pizza on 5th
When it comes to universally beloved comfort food, there is nothing like a delicious slice of pizza. At
Pizza on 5th
, the
best pizza restaurant in San Diego
, is committed to providing quality tasty pizzas that will leave you coming back for more.
In the heart of San Diego, Pizza on 5th is not just another Italian restaurant. We are your go to place for the best pizzas in the city. Where every slice tells a story. We invite you to join us at our establishment so we  can share our love for great food together.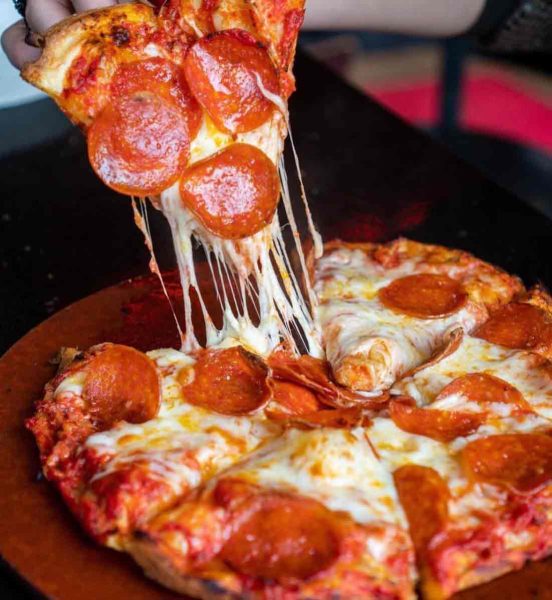 Our Philosophy
We believe in serving great food. Especially pizza. Though we understand that our customers are diverse and unique. San Diego is called a melting pot. So to make sure we embrace diverse palates we have created a menu that speaks to every pizza lover's soul.
Quality Pizzas
We select only the freshest ingredients and finest cheeses for our customers. From our dough, hand-rolling it to perfection and our cheese, we pride ourselves in ensuring that every pizza we serve is top notch. Full of flavor and of high quality.
Customized Pizzas
We understand the importance of customized pizzas. Not everyone likes the same thing. That is why we offer a wide selection of pizza toppings including, pepperoni, sausage, Canadian bacon, tomatoes, olives, mushrooms, bell peppers, onions, artichokes, jalapenos, garlic, basil, pineapple, feta cheese, ricotta, pesto and BBQ. This way you can add whatever toppings your heart desires making it your own personal pizza at an affordable price of $3.50 per topping.
If you want meat on your pizza, we also offer meat toppings. Your options are chicken, meatball and prosciutto. They are available at $5 each.
A Pizza For Every Occasion
No matter the occasion we have the pizza for you. Whether you're eating out with friends or family we have plenty of options to choose from. Here is a rundown of all your options. We have plenty of sizes available.
Individual 10″ Cheese $18
Large 16″ Cheese $25
Gluten-Free 10″ Cheese $20
Extra Large 18″ Cheese $27
Medium 14″ Cheese $23
Calzone Cheese $20
Conclusion
If you're in downtown San Diego and are craving pizza, visit our
casual Italian Restaurant
.
Pizza on 5th
is the perfect place to stop by and enjoy a slice of pizza. Our commitment to quality and customization is what sets us apart in the world of
Italian dining
. Come savor our cheesy pizzas and discover why we believe great pizza to be the key to happiness.
Pizza on 5th does
dine in
,
takeout
, and
delivery
. Order takeout
here
. You can order delivery on Grubhub, Doordash, and UberEats. If you would like to see the full menu
click here
.
If you have any questions or would like to order through phone call us at
(619)231-7582.